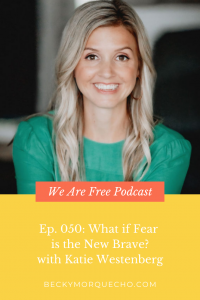 Thanks for listening to We Are Free Ep. 050 with Katie Westenberg: What if Fear is the New Brave?
Get Becky's Go-To Guide for Letting Go + Living Freely: Biblical truths, practical tips, resources and journal prompts that'll make you feel lighter and live freer.
Loving the We Are Free podcast!? Please take a minute to rate and review on iTunes! More reviews = more women hear We Are Free and experience the freedom of walking with Jesus!
Katie is a wife, mom and fervent follower of Christ, growing faithfully right alongside her four children. As both an author and speaker, she teaches women to grow a robust theology of who God is, become students of Scripture, and learn to live that Truth out with courage. She is the author of I Choose Brave and she makes her home in the lovely Pacific Northwest.
In this Ep. 050, you'll learn from Katie about…
What does it mean to fear the Lord?
What happens when we're stuck in fear?
What if fear is the new brave?
What happens when we try to put on a brave face?
How do we process fear in a healthy way?
How do we validate our fears but honor God?
Being honest with ourselves about what we're fearing
What is the root of our fear?
What do you believe about God when fear rules over you?
Tune in here to Episode 050. Know someone else who could use this episode in her life? Tell her you're thinking about her and love her and that you have something you know will encourage her today <3
Loving the We Are Free podcast!? Please take a minute to rate and review on iTunes! I appreciate it so much 🙂
Links from Show
Katie's book: I Choose Brave
Connect with Katie
Connect with Becky