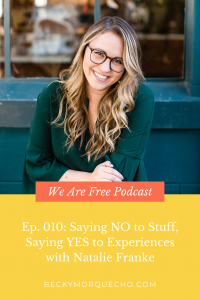 Episode 010: Natalie Franke – Saying NO to Stuff, Saying YES to Relationships and Experiences

Natalie is an entrepreneur, mobilization marketer, community builder, and neuroscience nerd.
As one of the Founders of the Rising Tide Society and the Head of Community at HoneyBook, she leads tens of thousands of creatives and small business owners while fostering a spirit of community over competition around the world.
In the last few years, Natalie has overcome a benign brain tumor. She's fought infertility. She's welcomed her miracle baby into the world. And just recently, Natalie and her hubby decided to sell their home in the spirit of saying NO to stuff, things they don't need, living big, & being stuck in one place. And instead, saying yes to: simplicity, doing more with less, choosing adventure & prioritizing experiences.

Prior to going through brain surgery, Natalie says she put a lot of weight into how things appeared. There was a lot of striving in that season.

Since brain surgery, she's contemplated: "Do I want this to be the legacy I leave behind?"

Then, infertility hit. And, "It felt like someone was literally taking my oxygen." These seasons forced her to really consider if her personal life reflected what she stands for as an entrepreneur: Community over competition.

Over the years, she learned what a blessing it is to fully depend on the Lord.

Now, Natalie and her family are truly living out what God has taught her over the years:

"Time is my most precious currency. I can always go make more money. But time is something we don't have control over."

When her life bounced back after those tough seasons, Natalie and her husband started making plans to build a bigger home, buy a bigger car, etc.

"This time these things didn't fulfill me the way they used to." Natalie says she was falling back into that addiction of striving.

"Is this really what we want for our lives?"
They realized it isn't. At least not in this season.

"We know a couple things. Our marriage is a forever marriage. Our family comes first."

Natalie and Hugh have 3 months planned out so far. After that, they're not sure where they'll be. But, she says she wants to show my son the importance of cultivating relationships.

"There is a reason we're rejecting a lot of things we once clung to or trophies of success or trophies of validation that we have it together or living the life we should."

"Shedding the things we carry with us and trying to minimize as much as possible, it's been a long time coming."

When they moved back home from California to Annapolis, they realized their 1600-square foot townhouse was swallowing them whole. But, as a newlywed, Natalie remembers buying that home and dreaming about the day they could afford something bigger.

"The girl who bought that house was striving for so much more and the girl who returned home from California realized she had everything she ever needed, all along."

Natalie then shared a bit about the book she's writing. Her vision for community over competition and what she thinks this could mean for the future, where all of us are able to fulfill the specific callings God has for each of our lives.

Tune in now to see how God has set Natalie free.

Loving the We Are Free podcast!? Please take a minute and leave a review on iTunes! I appreciate it so much 🙂

Listen in here to Episode 010. Know someone else who could use this episode in her life? Tell her you're thinking about her and love her and that you have something you know will encourage her today <3
Links from the show

Connect with Natalie Franke

Connect with Becky