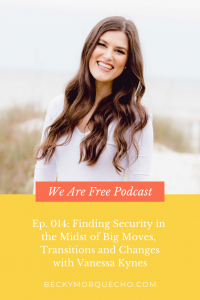 Episode 014: Vanessa Kynes – Finding Security in the Midst of Big Moves, Transitions and Changes

Vanessa is a Pinterest Marketing Strategist for creative small businesses. Juggling the demands of her own business with those of family and home, she specializes in efficient productivity, making the most out of every moment, and every pin! Hailing originally from the great state of Texas, she has lived in two foreign countries and enjoys traveling with her husband and three sweet daughters.

Vanessa thought she'd grow up, get married, have a normal job and a beautiful home. She liked the idea of stability and order. But she married an academic whose career took them overseas and since then, a handful of different states, living a pretty nomadic lifestyle for someone who'd rather not. Vanessa shares what has helped her most in seasons of big moves, transitions and changes.

"I am not the type of person who really loves changes." So living in the UK for 6 years for her husband's education and work was rough on Vanessa. She says she was lonely and had difficulty making friends. And horrible anxiety.

She thought the perfect life was a nice home. Feeling stability and order. But, "I look back at my past and think about stuff. And that's where my perspective has really changed."

In recent years, Vanessa's husband wanted to take a sabbatical year on the other side of the country, with 3 kids. They had to get rid of a lot of stuff. Do homeschooling for a year. "It was a very let go moment of my life."

Vanessa shared a few of her biggest lessons learned during those seasons of change and transitions in her life. So, if you're embarking on a big move or change, keep in mind:

Kids are really resilient. "If you make it fun and experiential for them, they're going to love it."

She says it's so important to keep your marriage healthy and strong.

"I can look at all those experiences and see how God used them for good."

Now, Vanessa says she's a big believer in practicing gratitude for ways that God's shown goodness in her past. And that helps her face uncertainties and big changes today.

The nomadic lifestyle has shaped her to want and choose adventure in everyday life. For her, that means saying yes to more spontaneous things (like road trips, travel and even local events), even if she doesn't have a lot of time to prepare for them.

If you have a type A, enneagram 1 kind of personality, Vanessa says it's helpful to be comfortable with being uncomfortable.

"I've learned that you don't need to be as prepared as you think you need to be."

Listen in here to Episode 014. Know someone else who could use this episode in her life? Tell her you're thinking about her and love her and that you have something you know will encourage her today <3

Loving the We Are Free podcast!? Please take a minute to rate and review on iTunes! I appreciate it so much 🙂
Links from the show

Rhythms of Renewal by Rebekah Lyons
Connect with Vanessa Kynes

Connect with Becky