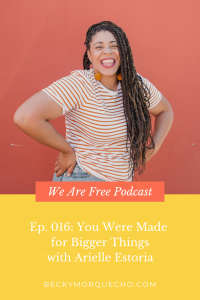 Get Becky's Go-To Guide for Letting Go + Living Freely: Biblical truths, practical tips, resources and journal prompts that'll make you feel lighter and live freer.

Loving the We Are Free podcast!? Please take a minute to rate and review on iTunes! I appreciate it so much 🙂

Episode 016: Arielle Estoria – You Were Made for Bigger Things

Arielle is a Spoken Word Poet, Author, Emcee and Event Host Speaker, Model and Actress. She orchestrates her art out of this motto, "Words not for the ears but for the soul." The heartbeat behind her work, is a diligent pursuit of instilling and reminding individuals of their value through words.

Arielle has shared her work through spoken word and keynote talks with companies such as Google, Lululemon, Tedx, the SKIMS campaign by Kim Kardashian and more.
Arielle is the Co-Author of two self-published collections of poetry and in 2016 she released her EP of poetry and music titled Symphony of a Lioness which can be found on Itunes, Apple Music and Spotify.
Arielle says she's living her God-given life, not the life I would have chosen for myself. She realized early on that she didn't express full healing in something until she wrote it out. So, she kept writing.
In the midst of trying to figure out a career path, her mentors continued to tell her:
"You were made for bigger things." And, she's here today to tell us the same thing.
Arielle says she's been on a body love journey this last year. Working on reconnecting her body, mind and soul. She's been realizing and wanting to have more of a biblical and creative conversation…it's not just body image.
In the goodness and perfection of God, we were made for bigger things.
We were not made to remain small. Not just physically, but in our potential and the power Jesus harnesses through us.
Arielle read her poem "Small" and trust me, you don't want to miss this!
We talk about why we are so hard on ourselves and how we give too much power to the enemy. He wants us to forget who we are and whose we are.
Doubt is so normal, as humans, so it's not about how we don't doubt, it's about how we don't stay doubting. Acknowledge it and move on. Now it's time to get back on track.
We are not called to live perfect lives.
"We're asked to do all we can with what we have and what we've been given."
Arielle gives practical advice for someone who's trying to hear and feel more intuition. She says intuition comes with listening. To yourself. To your body. To others. And that we need to have more moments where we're still and soak up all that's around us.
We also chatted about moms and daughters and that concept of remaining small and being created for something bigger.
Arielle says it's "important to see our moms on fire and passionate. It is so cool to watch my mom do what she was made for."
"How can we push and propel our kids toward who God has called them to be?"
This episode is packed with beauty, inspiration and such good life advice.
Listen in here to Episode 016. Know someone else who could use this episode in her life? Tell her you're thinking about her and love her and that you have something you know will encourage her today <3
Loving the We Are Free podcast!? Please take a minute to rate and review on iTunes! I appreciate it so much 🙂
Links from the show

Sacred Feminine Retreat with Lisa Gungor
Arielle's EP of poetry and music Symphony of a Lioness

Connect with Arielle

Connect with Becky