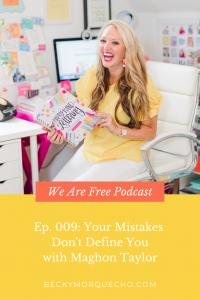 Episode 009: Maghon Taylor – Your Mistakes Don't Define You

Maghon is on a mission to spread happiness through her handwriting. She is a wife to her middle school sweetheart Chris, mama to their son Vance and owner of All She Wrote Notes, a calligraphy and hand lettering studio based in North Carolina.
Maghon has taught nearly 7,000 students to reignite their creativity with her traveling lettering workshops and her online classes. She is also the author of Happy Hand Lettering​ that was released in August of 2019 and has a second book in the works.
An award winning artist and calligrapher, Maghon has partnered to letter items and host events with national retailers such as West Elm, Neiman Marcus and Anthropologie.

I'm so excited for you to meet Maghon. She is obviously accomplished and doing fun, creative, beautiful things. But her joyful heart is just the best part of her. And I think a little bit of sunshine and joy is going to rub off on you just by listening to this episode today!

As a kid, Maghon says she was full of joy and smiles but in high school and college, people started to challenge her and say hurtful things about her personality.

"I started to let what other people said about me define who I was."

Eventually, this led her into an abusive relationship at the end of college and she ended up marrying the guy.

Maghon says it was a downward spiral from there.

"For someone who looks for the good and is always looking for the silver lining, there definitely was a time when there wasn't much good at all."

But, God can make all things beautiful, in his time.

Maghon wanted to get out of the relationship but didn't know how. Turns out, a skin cancer scare led her then husband to decide for her when he told her, ""I don't love you enough for this."

"I think sometimes we're looking for our answer to prayer to be beautiful and to be fireworks. Sometimes it's ugly."

On the flipside, life on the other side of a hard season shines brighter.

About five years ago, Maghon says she felt got saying: "You're going to have to share this."

Lara Casey invited her to speak about it at her conference Making Things Happen.

Maghon says she's open and willing to share about her past because it brings the glory back to God.

Maghon shares about the practical things she did to heal and move forward in her life.

Then we chatted about how all this played into her business. She was using confetti in her packaging and says people started to take to it.

"Confetti is just trash that chose a happier life."

And then she thought, wait a second. So am I.

Confetti is made from the scrap paper, from the pieces that have been cast aside.

And now, Maghon travels the country speaking about this very thing, encouraging women that their confetti is coming. "We don't get to choose when or where or how, but He knows and He's got this."

Maghon's first book Happy Hand Lettering came out August 2019. "It's not just about pretty handwriting. It's about spreading happiness."
The back of the book is like a devotional. Beautiful, powerful words you can speak over yourself and other people.

Her main message: Turn your mistakes into confetti.

"You're going to get to a season of your life where that stuff doesn't hurt you anymore. God does not waste your pain. He is with you."

Tune in now to see how God has set Maghon free.

Loving the We Are Free podcast!? Take a minute and leave a review on iTunes! I appreciate it so much 🙂

Listen in here to Episode 009. Know someone else who could use this episode in her life? Tell her you're thinking about her and love her and that you have something you know will encourage her today <3
Show Links
Maghon's book Happy Hand Lettering
Making Things Happen Conference with Lara Casey
Connect with Maghon

Connect with Becky