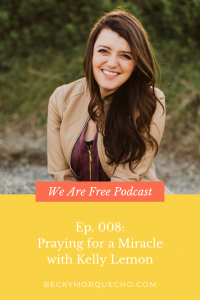 Episode 008: Kelly Lemon – Praying For a Miracle.

Kelly is a one-armed wedding + empowerment photographer. She lives in Seattle with her husband Agustin and her adorable mini goldendoodle Toby and they have a baby girl on the way, coming this January via surrogacy.

Kelly is also an inspirational speaker and she's passionate about encouraging and empowering women to see the strength within themselves.

Kelly starts out by telling the story of a car accident that paralyzed one quarter of her body and changed the trajectory of her life. In the years that followed, Kelly had a lot of surgeries in hopes to heal and fix her body. None of them worked.

In high school, she learned to become a photographer by rolling film with her feet instead of her hands. She then went on to college and tried to live a normal college kid life but she was living in chronic nerve pain.

"My heart couldn't handle another failed surgery. I couldn't handle another time where I'm seeking God for healing and the answer is no."

Kelly and her community prayed for 6 months about another potential surgery. Eventually, they moved forward with it. Instead of it helping…

"I woke up from surgery and never felt pain like I felt that day. It wasn't just that I was in excruciating pain, it was the realization that it failed."

Kelly started to feel angry at God.

Again, she went on with her life, living with even more nerve pain. But now, her good arm/hand started going numb. She started randomly losing mobility and use of her left arm.

"God, I don't know where you are but you tell us there's a limit. You tell us you'll give us the strength, but I'm at my limit. I have reached my limit, I can not get off the floor. Where are you?"

That prayer was such a breaking point for Kelly.

By God's grace, she was finally able to pick up a camera again.

In 2018, Kelly's left arm/the good arms started going numb again. Within six days, she lost 95% use of left arm and had severe neck pain. She was told she had a very rare condition and that she'd just have to wait it out. They'd never seen anyone recover in less than 6 months. The wait could be up to 2 years.
"What was amazing was experiencing what that was like was so different than round one because of where my faith with God was at."

Kelly felt ncredible peace. It didn't even really make sense. But God was working.

"We were so shocked with how much joy we had in that season."

In the end, Kelly recovered mobility and use of her left arm in 2 months!

Kelly says what she learned through all of this is how to pray.

"As a community of believers, we are not meant to carry our burdens alone. That is not something that God intended. We are meant to help carry the weight for our sisters and brothers. I was praying prayers I wasn't meant to carry."

"Praying for healing every day broke me down. I needed to pray for the tools to get through it. I needed to pray for strength to endure, I needed to pray for wisdom, I needed to pray for an eternal perspective. To zoom out and see how God was seeing this from his perspective. And at the end of that day, I was like, oh wow, God answered my prayer today."

"That was healing for my heart."

"If you are in a season where your life is calm, pray to God to give you wisdom on who to pray for and pray big prayers for other people who can't carry the weight themselves. If you're in a season of peace, don't take it for granted."

And today, Kelly says she's currently living in a miracle.

Dr. Tom Palic in Colorado is working with Kelly to regain use of her right arm after 19 years of paralysis. And it is working. She's regaining movement and it's reducing the nerve pain.

"What's amazing is that this is the product of people who have been praying for me for 20 years."

Kelly and her husband are also having a baby via surrogacy. You'll have to listen in to hear this part of Kelly's beautiful story.

Kelly's advice for someone hoping and praying for a miracle…

"When we start to rewire how we pray, to be more of praying for the tools for the day, the weight of it doesn't feel as heavy."

Kelly's empowerment photo sessions came to be because of her own journey and story. She wants other women to feel beautiful and empowered, regardless of their scars (physical or not).

Tune in to see how God has set Kelly free.

Listen in here. Know someone else who could use this episode in her life? Tell her you're thinking about her and love her and that you have something you know will encourage her today <3

Links from the show

Job (The NIV Application Commentary) by John H. Walton

Working with Jesse and me via business coaching

Kelly's empowerment photo sessions
Connect with Kelly Lemon

Connect with Becky