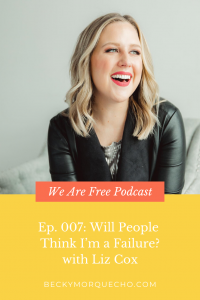 Episode 007: Liz Cox – Will People Think I'm a Failure?
Liz is a small business owner that calls Lexington, Kentucky home. She is the former co-owner of Meant To Be Boutique, manager and marketing director of Twirl Bridal Boutique, the host of Twirl's podcast Twirl Talk Podcast, and the co-founder of Refined Retail Consulting.
Liz nerds out over the enneagram, has a deep love for the British Royals, and is a loyal fan to the Bachelor franchise. You can follow along with her on her personal blog, lifewithliz.com
We chat for a bit about how Liz got into the wedding world in the first place. She had her own wedding photography and videography business and then took a gap year and ended up working at Twirl Bridal Boutique. She quickly became the manager of the store and then decided with the owner to open a business together: Meant to Be Boutique.

Just recently, Liz and her business partner closed the doors of that store and we chatted about all the feelings and decisions that went into that.

From one of Liz's posts on Instagram:

"SOME THOUGHTS ON IDENTITY & WORTH // WHAT. A. WEEK. Tuesday felt like one of the most exposing & vulnerable days I've had in a long time. We finally announced the closing of @meanttobeboutique and we felt nauseous all day long. We had known about this for a while and I thought I'd dealt with all the emotions of it already but hitting that "post" button on Tuesday morning made all the feelings come rushing back in full force.

A month ago when we decided it was time to close I was an absolute mess. It sent me into a tailspin of questioning who I am & what I've allowed to define my worth. "Who am I if I don't have "owner" in my title?" "Will people think I'm stupid & a failure?" "Am I fraud in all this?" "Do I even know what I'm doing?"

Will people think I'm stupid and a failure?

Pretty sure we've all been there, so I wanted to dive into that even more with Liz.

We talked about how saying no to one chapter opens up life-giving opportunities in new chapters. "People need to hear the freedom that it's okay to quit things."

Liz said she thinks we all hang on to stuff longer than we should sometimes because our pride gets in the way. You think thinks like, "Are people going to think I'm dumb?"

But, the opposite happened when Liz announced they were closing her boutique. She said a flood of people that came through, thanking them for their honesty and transparency.

We talked about what it's like to accept and make decisions based on what our best yes is. Figuring out what that is sometimes is really difficult. You fight a battle of your own pride. And, even though God might be showing you mercy throughout the process, it doesn't always feel like it.

When we seek God and what he wants for our lives, we'll find our best yeses. We might have to wrestle with it for a while but if we're obedient we'll see the rewards.

Liz shared about how she's put so much of her worth and identity into her success as a business owner and how she's recently heard God saying, "You're always going to be okay because you're mine."

Closing Meant to Be Boutique was the first time she chose to step down from a leadership position. "And it was the first time I questioned how I'm wired and if I've been living this false understanding of who I am and what I'm good at and not good at."

"Mercy isn't always comfortable. But it is good."

I wanted to finish by reading something Liz wrote about identity and worth…

"When we're able to see the story God has written for us, with all of its highs & lows, and be able to be grateful & celebrate it, that's when it all comes together. Our identity & worth aren't defined by titles or salaries. They're defined by a God who loves us and wants to showcase his goodness through the uniquely personal stories he's written for each of us. It is yours and it is His and that makes it beautiful."

Listen in here to Episode 007.
Connect with Liz

Connect with Becky