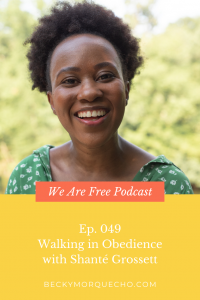 Thanks for listening to We Are Free Ep. 049 with Shanté: Walking in Obedience.
Get Becky's Go-To Guide for Letting Go + Living Freely: Biblical truths, practical tips, resources and journal prompts that'll make you feel lighter and live freer.
Loving the We Are Free podcast!? Please take a minute to rate and review on iTunes! More reviews = more women hear We Are Free and experience the freedom of walking with Jesus!
Shanté is the founder of Her Style of Tea, a Christian lifestyle blog that helps women develop a real and practical relationship with God, embrace their identity in Christ and find true fulfillment in life. In addition to writing, Shanté works full time in New York City as an Apparel Production Assistant. When she's not working, you can find her reading a good book, sipping on a warm cup of tea, or taking a peaceful walk in the park.
In this Ep. 049, you'll learn from Shanté about…
What is Biblical obedience?
Why do we do what God says?
Fear of rejection and social anxiety
Why Christians need to pay more attention to obedience
How life is different when we're being obedient to God
What does daily obedience look like?
We learn God's will for our lives by reading His word
Tune in here to Episode 049. Know someone else who could use this episode in her life? Tell her you're thinking about her and love her and that you have something you know will encourage her today <3
Loving the We Are Free podcast!? Please take a minute to rate and review on iTunes! I appreciate it so much 🙂
Links from Show
Respectable Sins by Jerry Bridges
Connect with Shanté
Connect with Becky