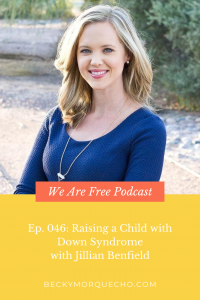 Thanks for listening to We Are Free Ep. 046 with Jillian Benfield: Raising a Child with Down Syndrome.
Get Becky's Go-To Guide for Letting Go + Living Freely: Biblical truths, practical tips, resources and journal prompts that'll make you feel lighter and live freer.
Loving the We Are Free podcast!? Please take a minute to rate and review on iTunes! More reviews = more women hear We Are Free and experience the freedom of walking with Jesus!
Jillian is a former TV Journalist and PR Specialist turned military spouse and mom of three. Her second child, Anderson, surprised their family when he arrived rocking an extra chromosome–also known as Down syndrome. Jillian is a past board member of the Down Syndrome Diagnosis Network and current medical outreach volunteer.
She is passionate about school inclusion, breaking down outdated stereotypes surrounding disability, and being a voice for parents of children with special needs. When she is not moving to a new state, or transporting kids to doctor appointments, she is writing on her blog, JillianBenfield.com. Jillian is an inspiring speaker and an aspiring author. You may have seen her work featured on Good Morning America, The TODAY Show, and Yahoo! News.
In this Ep. 046, you'll learn from Jillian about…
When and how Jillian and her husband found out their son had Down syndrome
What the doctor said to Jillian when she asked, "Can you tell us what this means for his life?"
What life looks having a child with Down syndrome
How her son has brought diversity to their family
How her son has changed her to let go of perfectionism
How school inclusion is the starting point for everything
How do we have more empathy? How do we come alongside families with Down syndrome?
Her greatest fears for her son with Down syndrome
God has set me free from trying to show the world that I always have it together
How Jesus has taught Jillian who she really is, through her son with Down syndrome
Tune in here to Episode 046. Know someone else who could use this episode in her life? Tell her you're thinking about her and love her and that you have something you know will encourage her today <3
Loving the We Are Free podcast!? Please take a minute to rate and review on iTunes! I appreciate it so much 🙂
Links from the Show
Jillian's free ebook: 5 Spiritual Comforts for Special Needs Parents
Connect with Jillian
Connect with Becky