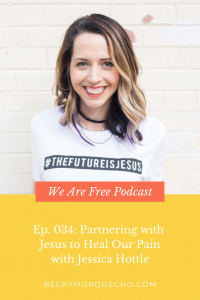 Thanks for listening to We Are Free Ep. 034 with Jessica Hottle: Partnering with Jesus to Heal Our Pain.

Get Becky's Go-To Guide for Letting Go + Living Freely: Biblical truths, practical tips, resources and journal prompts that'll make you feel lighter and live freer.

Loving the We Are Free podcast!? Please take a minute to rate and review on iTunes! More reviews = more women hear We Are Free and experience the freedom of walking with Jesus!

Jessica helps women get emotionally and physically healthy while keeping God at the center of their lives. She is a speaker, podcaster for What's The Truth, and author of two best-selling books, Know Your Worth and A Worthy Wife. Along with a third book, Own Your Worth. Jessica loves being a wife, a cat mama and spending her free time outside whenever she can, golfing, hiking, reading, or writing.

In this Ep. 034, you'll learn from Jessica about…

Helping women heal emotionally, physically and spiritually
Knowing your worth
Will this be the thing that finally makes me feel fulfilled
Carrying pain with you
The Year from Hell (hitting rock bottom)
Willingness to take responsibility for your pain
Validating feelings but accepting this is not God's best for your life
How to allow love in
Being vulnerable enough to admit we're weak
Knowing our worth sets us up for healing
How do we know we need healing
How can we create space for healing
What are the characteristics of healing
We need to challenge the way we think to change the way we live
Why do we see so much pain and not that many testimonies of healing
It is our responsibility to stay healed and free
Tune in here to Episode 034. Know someone else who could use this episode in her life? Tell her you're thinking about her and love her and that you have something you know will encourage her today <3
Loving the We Are Free podcast!? Please take a minute to rate and review on iTunes! I appreciate it so much 🙂

Links from the show

Jessica's podcast: What's the Truth?

Jessica's books
Know Your Worth: Conquering Your Past for a Powerful Future
A Worthy Wife: Preparing Your Heart and Home for Marriage
Own Your Worth: Discovering the Truth in the Midst of Lies
Connect with Jessica

Jessica's Health and Healing IG account
Connect with Becky