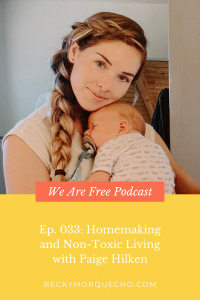 Thanks for listening to We Are Free Ep. 033 with Paige Hilken: Homemaking and Non-Toxic Living.

Get Becky's Go-To Guide for Letting Go + Living Freely: Biblical truths, practical tips, resources and journal prompts that'll make you feel lighter and live freer.

Loving the We Are Free podcast!? Please take a minute to rate and review on iTunes! More reviews = more women hear We Are Free and experience the freedom of walking with Jesus!

Paige is a pastor's wife and mom to 4 kids under the age of 5. They live in the outskirts of San Diego on 3 acres where they are pursuing their dreams of having their very own homestead in order to get back to a more simple way of living. Paige stays at home full time with her kids while also running her business Hilken Homemades. Her business focuses on educating women on how to take control of the health of their homes. She believes that when we feel good in our bodies we are not only honoring God but we are also able to better fulfill the purposes He has designated for each of us!

In this Ep. 033, you'll learn from Paige about…

The unschooling philosophy
The block schedule she follows with her kids at home, including a 2-hour quiet time
Homemaking systems in place for meal prepping, cleaning, etc.
How God continues to rip away her idols
"Our children are not a distraction from our work"
How to daily renew our minds
Setting the best example for my kids of what Christ lived like
Letting go of motherhood expectations during this season of the Coronavirus
Hilken Homemades
Health and non-toxic living on a budget
Living healthy on a small budget
How we're all gatekeepers of our homes
Tune in here to Episode 033. Know someone else who could use this episode in her life? Tell her you're thinking about her and love her and that you have something you know will encourage her today <3

Loving the We Are Free podcast!? Please take a minute to rate and review on iTunes! I appreciate it so much 🙂

Links from the show

The Renewing of Your Mind Project by Barb Raveling

The Expulsive Power of a New Affection by Thomas Chalmers

Engaging God's Word by Community Bible Study

The Call of the Wild + Free by Ainsley Arment
Connect with Paige Hilken

Connect with Becky