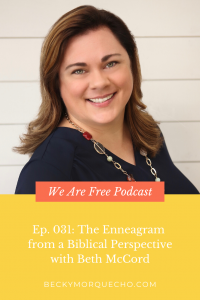 Thanks for listening to We Are Free Ep. 031 with Beth McCord: The Enneagram from a Biblical Perspective.

Get Becky's Go-To Guide for Letting Go + Living Freely: Biblical truths, practical tips, resources and journal prompts that'll make you feel lighter and live freer.

Loving the We Are Free podcast!? Please take a minute to rate and review on iTunes! More reviews = more women hear We Are Free and experience the freedom of walking with Jesus!

Beth McCord is an Enneagram author, speaker, podcast host and coach and the founder and lead content creator of Your Enneagram Coach, a community designed to be a safe place for individuals to explore the Enneagram. With years of experience and a passion for coming alongside individuals, couples, and groups, Beth is leading the way in simplifying the deep truths of the Enneagram from a Biblical perspective. Her mission is to make personal awareness and growth accessible for everyone, anywhere, so they can experience health and transformation in every area of their lives.

In this Ep. 031, you'll learn from Beth about…

Why she chose the Enneagram instead of something else
Quick history of the Enneagram
How the Enneagram gives us clarity
How the Enneagram got niched into the Christian sphere
What the Enneagram has to do with Christianity
Core motivations of why we think, feel and behave
How Beth and Jeff McCord brought the Enneagram into Christian language
Description of each Enneagram type
Becoming Us, Beth and Jeff McCord's book
How does the Gospel fulfill our core longings
What is most important: Core fear, core desire, core weakness or core longing
Rundown on each Enneagram type's core longing and how Christ satisfies those for us
Are you born your Enneagram type or does it mold over time
Tune in here to Episode 031. Know someone else who could use this episode in her life? Tell her you're thinking about her and love her and that you have something you know will encourage her today <3

Loving the We Are Free podcast!? Please take a minute to rate and review on iTunes! I appreciate it so much 🙂
Links from the show

Your Enneagram Coach, the podcast

The Road Back to You, book by Ian Cron and Suzanne Stabile

Free Enneagram test: What is my type?

Read about Core Motivations for all types

Becoming Us, book by Beth and Jeff McCord
From Fear to Freedom, book by Rose Marie Miller

The Enneagram Collection journals

Your Enneagram Coach online courses

Improve Your Marriage Using the Tools of the Enneagram
Connect with Beth McCord

Your Enneagram Coach website
Connect with Becky