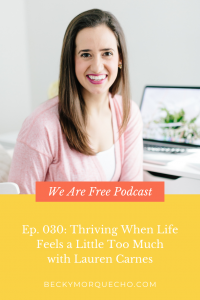 Thanks for listening to We Are Free Ep. 030 with Lauren Carnes: Thriving When Life Feels a Little Too Much.

Get Becky's Go-To Guide for Letting Go + Living Freely: Biblical truths, practical tips, resources and journal prompts that'll make you feel lighter and live freer.

Loving the We Are Free podcast!? Please take a minute to rate and review on iTunes! More reviews = more women hear We Are Free and experience the freedom of walking with Jesus!

In this Ep. 030, you'll hear all about…

Surviving vs. thriving (how to thrive when life feels like it's too much)
Tips for thriving during social distancing
Saying yes to the things God's called you to
Letting go of the need to be everything to everybody
Finding creative ways to to live out your strengths
Letting go of expectations
With a background in public relations and social media marketing, Lauren has always been a lover of telling great stories. For 6 years she worked alongside international brands including Nike, Airstream, and Chick-fil-A. Now, as a Communications Strategist and Photographer she has the opportunity to pursue two elements of storytelling in one business.

When she's not in the office, Lauren can be found cooking, hosting friends, or exploring new cities. She lives in her college town, Athens, GA, with her husband, Chip, her son, Oliver, and their fur-baby, Sophie.

This last year has been busy for Lauren, to say the least. But, we both agree that's just life. There will always be something.

Lauren shares about her day-to-day life and schedule: managing a business and running a household. "There is a lot of weight to bear on the day to day."

She says releasing expectations she has for herself of what her life and day to day are going to look like gives her freedom. Even as someone who likes to do a lot of things, sometimes things can still be overwhelming.

"A lot of great things can also still be A LOT."

But, even in those times, Lauren leans on this guiding light: "What He has done before, He will do again."

Lauren recommends finding a creative outlet that fulfills you. It could be cooking, picking flowers, arranging bouquets, anything! "Find something for yourself that you feel really gifted in."

Tune in here to listen to Episode 030. Know someone else who could use this episode in her life? Tell her you're thinking about her and love her and that you have something you know will encourage her today <3

Loving the We Are Free podcast!? Please take a minute to rate and review on iTunes! I appreciate it so much 🙂
Connect with Lauren Carnes

Connect with Becky