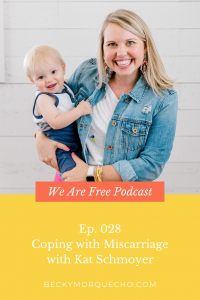 Thanks for listening to We Are Free Ep. 028 with Kat Schmoyer: Coping with Miscarriage.

Get Becky's Go-To Guide for Letting Go + Living Freely: Biblical truths, practical tips, resources and journal prompts that'll make you feel lighter and live freer.

Loving the We Are Free podcast!? Please take a minute to rate and review on iTunes! More reviews = more women hear We Are Free and experience the freedom of walking with Jesus!

We Are Free podcast Episode 028 is about coping with miscarriage and pregnancy loss. 

Kat Schmoyer is a mamapreneur, founder of Creative at Heart & wedding planner! Kat and her husband Matt work together from home full time, running her businesses, while raising their son Micah.

She has a slight obsession with all things pink and could talk all day about #bachelornation! Kat is expecting her second little one in April, and can't wait to see the plans God has in store for their family of four!

Kat says she didn't think much of it when she and her husband wanted to start trying to have a family. She figured she'd get pregnant and have a baby.

But, she ended up having two miscarriages before her son Micah was born.

Kat shares her story and experiences with both of those pregnancies and miscarriages. She talks about how they were different, the same and what she believes God was doing in her life during that hard season.

"I really needed to learn what it was like to trust. And hold things with an open hand."

She also shares about what her two pregnancies post-miscarriage have been like, how she deals with any fear she has and how clinging to Jesus is the biggest and best way that's healed and helped her through it all.

Listen in here to Episode 028. Know someone else who could use this episode in her life? Tell her you're thinking about her and love her and that you have something you know will encourage her today <3

Loving the We Are Free podcast!? Please take a minute to rate and review on iTunes! I appreciate it so much 🙂
Connect with Kat Schmoyer

Kat's conference: Creative at Heart

Connect with Becky