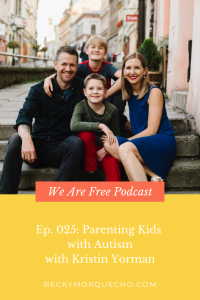 Thanks for listening to We Are Free Ep. 025: Parenting Kids with Autism.

Get Becky's Go-To Guide for Letting Go + Living Freely: Biblical truths, practical tips, resources and journal prompts that'll make you feel lighter and live freer.

Loving the We Are Free podcast!? Please take a minute to rate and review on iTunes! More reviews = more women hear We Are Free and experience the freedom of walking with Jesus!

We Are Free podcast Episode 025 is about what it's like to parent kids with autism.

Kristin is a wife, a mom, and a missionary. She and her family have lived on the mission field for 9 years in the Czech Republic. She loves eating and cooking, hiking, traveling, reading and learning different languages.

Kristin has 2 boys on the Autism Spectrum. Both of her boys were diagnosed after they arrived on the mission field. She and her husband Casey have a thriving marriage and are thankful to live this life together, however crazy it has been or will be. They thank God daily for their wonderful boys and could not imagine a different life for themselves.

Kristin shares the story of how she and her husband learned their sons' diagnosis of autism. She talks about the symptoms each of them was experiencing, the testing process and how they dealt with it as a family.

"For us, it was a huge relief."

She talks about what changed in their home after that and how Kristin and Casey came alongside their boys with this new diagnosis.

Living in the Czech Republic, with less resources than in the States, she said they had to figure out how to do it themselves.

Kristin shares the challenges and joys of parenting kids with autism throughout this episode.

The bottom line and her stance on all of it:

"Trust God and take the next step. Focus on where God has you today and trust him for tomorrow."

Listen in here to Episode 025. Know someone else who could use this episode in her life? Tell her you're thinking about her and love her and that you have something you know will encourage her today <3

Loving the We Are Free podcast!? Please take a minute to rate and review on iTunes! I appreciate it so much 🙂
Links from the show

Connect with Kristin Yorman

Kristin's husband Casey on Instagram
Connect with Becky