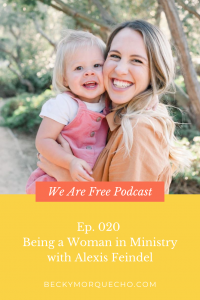 Get Becky's Go-To Guide for Letting Go + Living Freely: Biblical truths, practical tips, resources and journal prompts that'll make you feel lighter and live freer.

Loving the We Are Free podcast!? Please take a minute to rate and review on iTunes! More reviews = more women hear We Are Free and experience the freedom of walking with Jesus!

Episode 020: Alexis Feindel – Being a Woman in Ministry

Alexis works part time in vocational ministry alongside her husband, as pastors at a church in North County San Diego. When she's not working, she's in full time mama mode for her daughter Collyns Joy and soon to be baby No. 2, another sweet little girl.

In her free time, Alexis loves doing all sorts of creative things, especially right now, DIY house projects. She loves Thai food, cold weather, watching The Bachelor and asking people what enneagram number they are.

Alexis has been involved in ministry for 13 years. And right now, she's a fourth and fifth grade pastor and North Coast Church Carlsbad Campus.

In this episode, we chat about how working in ministry affects your relationship with the Lord, your marriage and family.

Alexis says she's put to the test a little bit…

"There's so much more required from your spiritual life when you work in ministry."

She says being burned out is one of her biggest indicators that she needs more time with Jesus.

"It's hard being a woman because we fall into the trap of comparison pretty much in any area of our life, but especially in ministry because there's so much male dominance. I think there's a stigma that women are there to do kids ministry."

"I've had to learn that the Holy Spirit is the Holy Spirit. The Holy Spirit is going to work through you no matter who you are."

Alexis says it was hard for her to do the same work as her husband.

"We have a lot of the same gifts, same passions and we're running in the same direction but for the health of our marriage, one of us is going to have to take a step back."

She says it's important to step back and notice the gifts your spouse has.

And, if you're hoping to work in ministry, or if you're already in it, Alexis has a couple pieces of advice. Tune in to hear those things 🙂

But, the biggest takeaway she says, is to pursue Jesus.

"God has made me to be who I am and I'm not like anybody else."

And we need to stop looking around at what everyone else is doing and rely on God to use us for who he's created us to be.

Listen in here to Episode 020. Know someone else who could use this episode in her life? Tell her you're thinking about her and love her and that you have something you know will encourage her today <3

Loving the We Are Free podcast!? Please take a minute to rate and review on iTunes! I appreciate it so much 🙂
Connect with Alexis Feindel

Connect with Becky