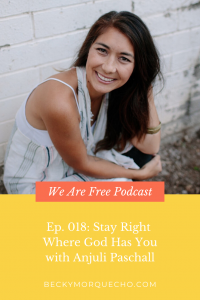 Get Becky's Go-To Guide for Letting Go + Living Freely: Biblical truths, practical tips, resources and journal prompts that'll make you feel lighter and live freer.

Loving the We Are Free podcast!? Please take a minute to rate and review on iTunes! More reviews = more women hear We Are Free and experience the freedom of walking with Jesus!

Episode 018: Anjuli Paschall – Stay Right Where God Has You

Anjuli grew up as a missionary kid and later studied Psychology at Point Loma Nazarene University and then earned her graduate degree from Talbot Seminary in Spiritual Formation and Soul Care.

She's been married for almost 15 years to her childhood friend, Sam and they have five beautiful children. Anjuli is passionate about speaking hope into the hearts of Christian women through writing, retreats, and online classes. She loves chai tea, Instagram and the color orange.

She is the creator of The Moms We Love Club and her new book, Stay, will be out spring of 2020.

Anjuli and I chat about some big topics in Episode 18. Like, what is our anxiety telling us? Why does the same jealousy, fear and anger keep popping up? She encourages us to STAY, right where God has us to figure it out.

When she was 24, Anjuli hit a wall in her faith and went on a journey to answer this question:

"Why do I know that God loves me in my head, but I don't experience that in my heart?"

Anjuli says she finally, truly encountered God when she stopped running from pain, fear, anxiety and anger and accepted his presence in any and every good and hard situation.

The answer is stay. "It's stay, right where you are."
"Everything I thought I needed, everything I thought I had to become was not a work of myself."

We chat about our tendencies to immediately want to fix problems or run from them, altogether. When really, the anxiety we feel, Anjuli says, is a gift. An invitation to a deeper relationship with Christ.

Anjuli shares the different ways/seasons she walks readers through staying in her book. "It's staying with parts of you that are hard to stay with." Loneliness. Guilt. Shame. Confession.

As part of this process, she recommends identifying who you are, how you are really doing and what brings you joy.

Another big question Anjuli encourages us to think about is: What are you resistant to today? What's going on in your heart that is bringing about tension?

The answer is always stay, says Anjuli. In the pain. In the challenges. Stay right where God has you.

Listen in here to Episode 018. Know someone else who could use this episode in her life? Tell her you're thinking about her and love her and that you have something you know will encourage her today <3

Loving the We Are Free podcast!? Please take a minute to rate and review on iTunes! I appreciate it so much 🙂
Links from the show

Check out Anjuli's book, Stay, on Amazon

Lara Casey's Making Things Happen Conference
Connect with Anjuli

Connect with Becky