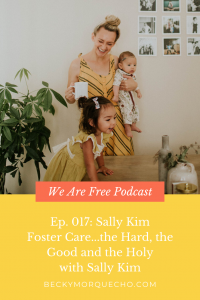 Get Becky's Go-To Guide for Letting Go + Living Freely: Biblical truths, practical tips, resources and journal prompts that'll make you feel lighter and live freer.

Loving the We Are Free podcast!? Please take a minute to rate and review on iTunes! I appreciate it so much 🙂

Episode 017: Sally Kim – Foster Care…The Hard, the Good and the Holy

Sally has worked in the creative industry as a consultant, a blogger, a writer, editor, content and communications director, event coordinator, and all kinds of things in-between for the last five years. She now works with Emily Freeman and hope*writers as an on-staff creative consultant.
When Sally was 22 years old, she was given unexpected and emergency custody of her three brothers overnight, after a heartbreaking accident killed her grandfather, their main caregiver. Just a few months after graduating with her bachelors, all dreams of grad school or career choice were placed on hold to navigate the foster care system and raising three boys on her own, ages 2, 7, and 12 at the time.
Now, eight years later, she is married with two biological daughters and an adopted son (who, happens to be her brother by blood), and would never trade a single sacrifice or step in her story.

Hear Sally's heart-breaking but inspirational story of how her brothers became her sons and how foster care and adoption has influenced her life, the decisions she's made with and for her family and the drive she has to love others well.

Sally and her husband Will were also foster parents to two little girls late last year. She shares how foster care "taught us so much about how to love these families well."

She says foster care is so many things, just like parenting. But there's so much more. You're working with trauma. And other families. And other parenting styles. And, one of the most important pieces of it all, Sally says, is "How would I want someone to take care of my kids if I was unable to take care of them?"

"I would want them to speak highly of me. We were hugging this baby because we wanted to be the arms of her mom."

Sally and I talked about how the idea that God offers even more capacity for the things he cares so deeply about.

"There are certain things that are so close to God's heart."

Sally says you have to know that you're called to foster because it is hard on so many levels.

"They have this whole life before you and a whole life after you."

Having a strong community is so important for families who feel called/ready to foster children, Sally says. And, she has a few more pieces of encouragement for you if you're thinking of fostering.

The last few minutes of this episode are some of my favorites, where Sally shares a bit about how/why she ended up creating her Bible study, Dear Daughter. If you're a woman or a mama or a daughter, this one's for you!

"God has messages for his daughters." That's you and me, friend 🙂

Listen in here to Episode 017. Know someone else who could use this episode in her life? Tell her you're thinking about her and love her and that you have something you know will encourage her today <3

Loving the We Are Free podcast!? Please take a minute to rate and review on iTunes! I appreciate it so much 🙂
Links from the show

Kinship Care explained

Underground, the show

Sally's Bible Study, Dear Daughter

Read Sally's story in Mother Magazine
Connect with Sally Kim

Connect with Becky