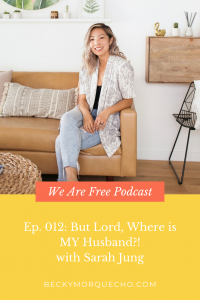 Episode 012: Sarah Jung – But Lord, Where is MY Husband?!

Sarah is an experienced educator turned serial entrepreneur. She is inspired to have a lot of creative ventures, such as her businesses Faithful Artisans and As We Dwell, which is a showroom for designers and artists, a co-working space and an event venue for her local community in Los Angeles.

Sarah loves anything vintage, DIY projects, extreme sports and adventures, delicious food, traveling the world and Jesus.

In this episode, we chatted about what it's like to be living single in your 30s.

Everyone's getting married. But you. This episode is all about living single in your 30s. Sarah always dreamed and assumed she'd be married by 25. That's not what happened. For 4 years in her mid-30s, she remained single. But, in the midst of that waiting, Sarah says God dismantled old ways of thinking, provided healing and offered his love, just as she was.

Sarah thought she'd be the first one of her friends to get married. "I thought the latest I'd get married was 25."

And even thought she had serious, committed relationships, "I felt such an emptiness inside of me," even though her life looked fulfilled on the outside.

After an ex-boyfriend (who she thought was the one) broke it off, Sarah vowed to be single for a year.

She read Your Knight in Shining Armor and says that book was really helpful for her during that time.

Sarh vowed to stay single for a year. "By the end of that year, surely God will bring my husband."

A year turned into a second, third, fourth year.

She says the hardest thing for her about those years was not wanting to make a mistake (choosing the wrong guys to date) after all the good work God had done in her heart. And, the waiting.

God surprised her in so many beautiful ways along the way, but Sarah says one of the biggest surprises was how she met her now husband. She got married when she was 39.

Listen in to hear what helped Sarah most during those years of waiting and her advice for other women living the single life maybe just a little bit longer than they thought they would.

Loving the We Are Free podcast!? Please take a minute and leave a review on iTunes! I appreciate it so much 🙂

Listen in here to Episode 012. Know someone else who could use this episode in her life? Tell her you're thinking about her and love her and that you have something you know will encourage her today <3
Links from the show

Your Knight in Shining Armor by P.B. Wilson

Connect with Sarah

Sarah's business, As We Dwell on Instagram

Connect with Becky