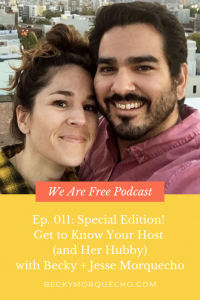 Episode 011: Becky + Jesse Morquecho – Special Edition! Get to Know Your Host (and Her Hubby)

This is a special edition episode! I wanted to introduce you to my hubby Jesse and I figured our 10th wedding anniversary was a great excuse to bring him on We Are Free.

Jesse and I tell the story about how we met in Paarl, South Africa even though we lived 10 minutes from each other in North County San Diego. Who was interested in who first?! How did we go from absolutely not interested in each other to friends, dating, engaged and married in only 13 months!? We share it all.

But I think my favorite part about this episode is our candid conversation about what it's been like to be married the last 10 years. I put Jesse on the spot and ask him some pretty loaded questions.

Tune in to this special edition to get to know your host and her hubby just a little bit better.

I'd love to get to know you, too! Leave a comment below! Tell me who you are and what you'd love to hear more of on this show <3

Loving the We Are Free podcast!? Take a minute and leave a review on iTunes! I appreciate it so much 🙂

Listen in here to Episode 011. 
Links from the show

Limelife Photography, our photography business

Idealust, our coaching business coaching for creatives business

Till Agency, Jesse's (and Davey + Ryan's) social ads agency
Connect with Jesse

Connect with Becky