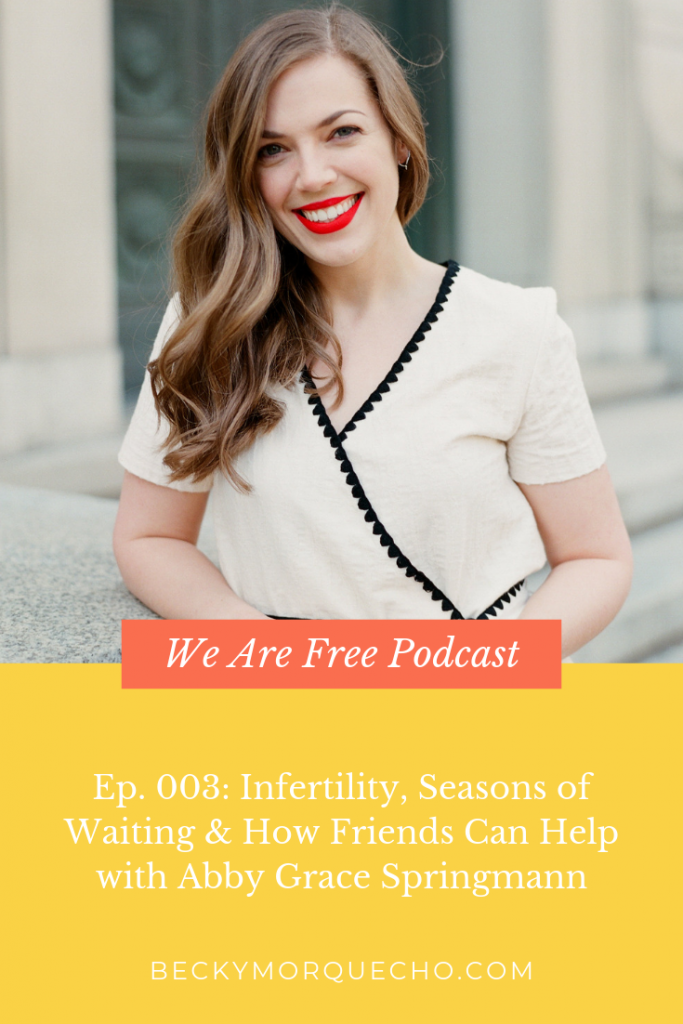 Episode #003: Infertility, Seasons of Waiting and How Friends Can Help

Abby Grace is an international photographer, educator & speaker based just outside of Washington DC. She has the extreme joy of doing life and business with Matt, her kindhearted husband of 8 years. A frequent traveler in Paris and lifelong ballet aficionado, she's a fierce believer in a life richly-lived both within and outside of the office.

In 2016, after a year and a half of fruitless conception efforts, Abby and Matt decided to take their infertility journey public to encourage others walking the same path, and along the way felt the Lord pulling their heart and eyes to adoption.

I am so honored to have my friend Abby on the show. She is honest, raw and passionate. You'll love hearing from her. So grateful to have had the chance to talk with Abby about hard things like infertility and waiting on the Lord.

We talk about planning to have a family, trying to get pregnant and all the frustration and grief that comes along with not getting what you want, when you want it, the way you want it.

Abby shares how she found God when she was in the depths of bitterness, what book of the Bible changed her perspective and how she came to realize that God is good, regardless of our circumstances.

I asked Abby was was most helpful during her season of waiting. If you have a friend or sister-in-law or someone you know is facing infertility, this is for you! She references Brené Brown (author of one of my all-time favorite books Daring Greatly), saying an empathetic statement rarely starts with: "At least…" We talk about what you can do or say and what not to do if you know someone walking through infertility or just a hard season of life, for that matter.

What did you do about going to friends' baby showers? How did you handle seeing all the pregnancy and birth announcements on social media? What boundaries did you create for yourself? Abby and I chat about it all.

I wanted to get practical, too, knowing from experience how it's sometimes so hard to make that next decision when you're trying to start a family. Abby shares how she went from feeling abandoned and uncertain if/how her and Matt would have a baby to very clearly seeing/hearing God tell them their next steps.

One of my favorite takeaways from Abby's interview is this truth: "We don't need our stories to end perfectly in order for His love to be perfect."

Listen in here. Have a friend facing infertility? Let her know you're thinking about her and love her and that she's not alone. Send this her way so she can be encouraged, too <3 

Show Links

Read more about the power of vulnerability and empathy in Brené Brown's Daring Greatly.
Connect with Abby

Connect with Becky