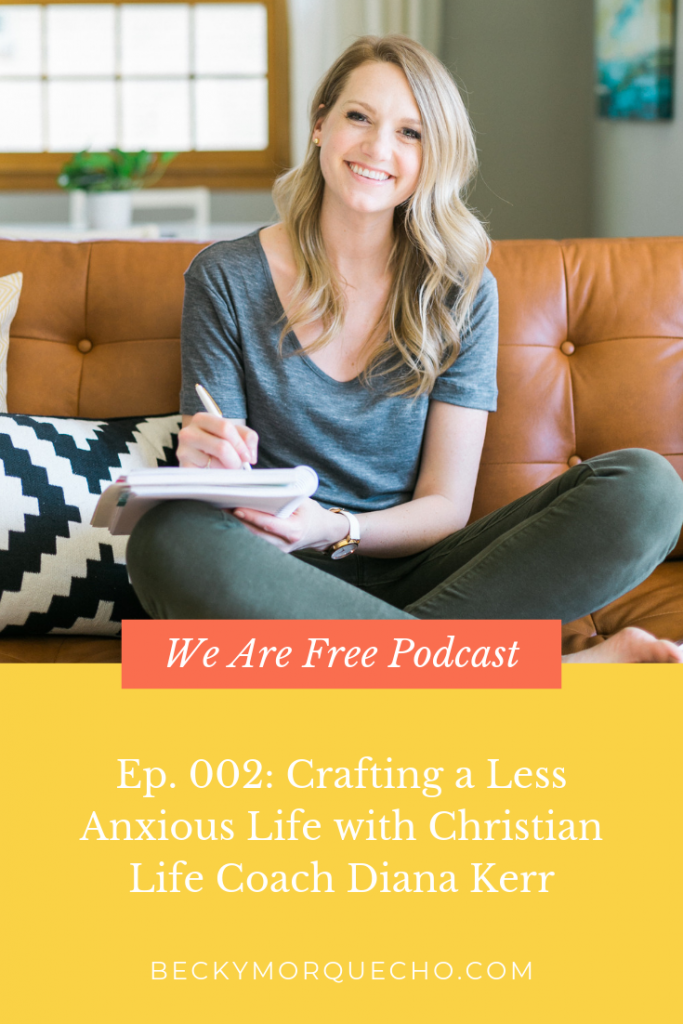 Episode #002: Crafting a Less Anxious Life with Christian Life Coach Diana Kerr

Diana Kerr is a Certified Professional Life Coach on a mission to help go-getter Christian women break free from overwhelm and design their time and life for what matters most. Diana lives in Milwaukee, Wisconsin with her husband, Kyle, and their son, Harrington.
Diana and I talk a lot about anxiety on this episode, starting with Diana sharing about when her anxiety peaked in her own life. She felt enslaved to perfectionism. It was physically affecting her. She wasn't sleeping. And her husband wanted the old Diana back.

We talk about what got her through, how she graduated out of survival mode and practical tips for you if you're at a breaking point.

She shares how God unraveled her old frazzled self and how he's still working on her, but now she has the tools to work through anxiety. And Diana shares some of those practical tips and tools with you.

We talk rest, Marie Kondo, her 3-month break from social media (and how that applies to your life) and oddly enough, pineapples. You'll have to listen to see how pineapples fit into this equation 😉

Diana also shares some overarching themes and topics she knows are affecting her coaching clients; they're probably affecting you, too. Tune in to see what her clients are coming to her for, what their fears are and how she helps and what you can do if you're feeling off or anxious.

Listen in here. Have a friend going through a rough patch of anxiety? Let her know you're thinking about her and love her and that she's not alone. Send this her way so she can be encouraged, too <3 
Show Links

Get Diana's free 12-page workbook, 3 Lies about Time Christian Women Tell Themselves & 3 Truths That Will Set You Free.
The book that inspired Diana to take a 3-month (and counting!) break from social media: Cal Newport's Digital Minimalism
Read more about how food affects your mental health: The Gaps Diet.

Read more about decluttering your life in Marie Kondo's The Life-Changing Magic of Tidying Up.
Connect with Diana

Visit dianakerr.com to learn more about working with Diana 1-on-1 or her group program Fight for Margin, and explore her free tips and resources on intentional living.

Connect with Becky