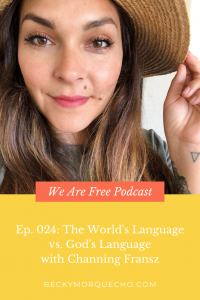 Get Becky's Go-To Guide for Letting Go + Living Freely: Biblical truths, practical tips, resources and journal prompts that'll make you feel lighter and live freer.

Loving the We Are Free podcast!? Please take a minute to rate and review on iTunes! More reviews = more women hear We Are Free and experience the freedom of walking with Jesus!

Who and what is influencing your thoughts and beliefs? What lies are you letting seep into your mind and heart? And, most importantly, how do we stop them from separating us from the Lord? Channing joins me in the studio for a candid conversation on how to take the world's narrative, filter it through the Holy Spirit and compare it to God's truth.
We Are Free podcast Episode 024 is all about the world's language vs. God's language and recognizing who and what truth or lies are influencing your life, confidence and decisions. 

Channing Fransz is a San Diego native. She and her husband have a little boy named Samuel. She loves to cook and all things clean beauty.

Channing works in the beauty industry and she tells us about a time in her life when she was listening to, believing and putting on lies rather than God's truth. It affected how she showed up every day.

"I was so concerned about what they were going to say."

This negative narrative in her mind and heart led her into a "dark and heavy time of anxiety and depression."

We chat about what that looked like for her and why it's so important (vital!) that we're seeking out God's language rather than listening to the world's language.

Channing tells us how she separates what the world is saying vs. what God is saying and how we really, truly, wholeheartedly find our worth in Jesus.

Listen in here to Episode 024. Know someone else who could use this episode in her life? Tell her you're thinking about her and love her and that you have something you know will encourage her today <3

Loving the We Are Free podcast!? Please take a minute to rate and review on iTunes! I appreciate it so much 🙂
Connect with Channing Fransz

Channing's personal Instagram account
Connect with Becky