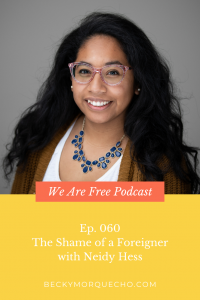 Thanks for listening to We Are Free Ep. 060 with Neidy Hess: The Shame of a Foreigner.
Get Becky's Go-To Guide for Letting Go + Living Freely: Biblical truths, practical tips, resources and journal prompts that'll make you feel lighter and live freer.
Loving the We Are Free podcast!? Please take a minute to rate and review on iTunes! More reviews = more women hear We Are Free and experience the freedom of walking with Jesus!
Neidy is mamá to 3 precious kiddos and wife to Zach, a Marine Corps veteran, and firefighter/paramedic. She's the new content manager at Exhale, a Coffee and Crumbs online community that helps moms pursue creativity in the margins. She also is the site manager for her church's children's ministry, a homeschool mom, and a freelance writer.
In this Ep. 060, you'll learn from Neidy about…
What it's like to live as an undocumented citizen
How poverty doesn't come without trauma
Seeking other religions to heal a void
Feelings of shame and unworthiness
How reading the book of Isaiah brought new meaning to who Jesus was
Letting go of shame
How to deal with shame as a Jesus follower
How generational trauma affects parenting
Biblical counseling for those who've endured trauma
The beginning of sin and shame
Strengths that come out of trauma
The story of Rahab
Tune in here to Episode 060. Know someone else who could use this episode in her life? Tell her you're thinking about her and love her and that you have something you know will encourage her today <3
Loving the We Are Free podcast!? Please take a minute to rate and review on iTunes! I appreciate it so much 🙂
Links from the show
Neidy's essay on Coffee and Crumbs
Connect with Neidy
Sign up for Neidy's newsletter
Connect with Becky