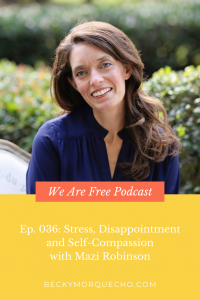 Thanks for listening to We Are Free Ep. 036 with Mazi Robinson: Stress, Disappointment and Self-Compassion.

Get Becky's Go-To Guide for Letting Go + Living Freely: Biblical truths, practical tips, resources and journal prompts that'll make you feel lighter and live freer.

Loving the We Are Free podcast!? Please take a minute to rate and review on iTunes! More reviews = more women hear We Are Free and experience the freedom of walking with Jesus!

Mazi is a licensed professional counselor specializing in helping women discover their true voice as they navigate self worth and self esteem challenges, relationship concerns, and life stage transitions.

Mazi also speaks at workshops on topics such as anxiety, healing, healthy relationships, personal growth, and purposeful living. She is a Certified Daring Way™ Facilitator presenting on the research and methodology of Dr. Brené Brown to individuals and groups AND she is also the founder and director of Cultivate, a counseling center and community in Atlanta, where she lives with her husband and two sons.

In this Ep. 036, you'll learn from Mazi about…

What stress is and what it isn't
What happens when our brain senses we're in danger
How stress and anxiety keep us alive
Common thought patterns we fall into in times of stress or anxiety
How to start replacing lies with truth
How to deal with disappointment
Admitting your grief
Practicing emotional awareness and curiosity
How connection plays a huge role in healing
How to get through uncertainty and loss
Sitting in our emotions
Why journaling is so important
How to identify what you're actually feeling
Marking loss and disappointment
How to show yourself self-compassion
How the root of self-compassion is believing "I am loved"
Tune in here to Episode 036. Know someone else who could use this episode in her life? Tell her you're thinking about her and love her and that you have something you know will encourage her today <3

Loving the We Are Free podcast!? Please take a minute to rate and review on iTunes! I appreciate it so much 🙂
Links from the show

Kristin Neff, self-compassion expert

Kristin Neff's book: Self-Compassion: The Proven Power of Being Kind to Yourself

Connect with Mazi

Mazi's private practice: Cultivate Atlanta

Connect with Becky