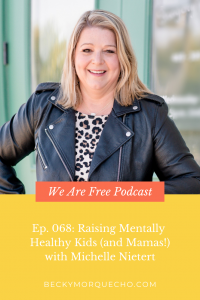 Thanks for listening to We Are Free Ep. 068 with Michelle Nietert – Raising Mentally Healthy Kids (and Mamas!).
Get Becky's Go-To Guide for Letting Go + Living Freely: Biblical truths, practical tips, resources and journal prompts that'll make you feel lighter and live freer.
Loving the We Are Free podcast!? Please take a minute to rate and review on iTunes! More reviews = more women hear We Are Free and experience the freedom of walking with Jesus!
Michelle is a mom of two, an author, speaker, and Clinical Director of Community Counseling Associates in Dallas, TX. As a sought-after leader by mental health professionals, churches, and school districts, Michelle created a crisis intervention program for a large suburban school district intervening in the lives of thousands of students and their families. She is the co-author of Loved & Cherished, a devotional for tween girls and is co-host of the Raising Brave Beauties podcast.
In this Ep. 068, you'll learn from Michelle about…
Practical mental health practices
Recovering from pain or grief
Cognitive behavioral therapy
Run your own race
Warning signs that you're not okay
How Vitamin D affects depression
How do we demonstrate mental health to our kids
Questions to ask your kids to check on their mental health
How to help kids through emotions
Take your kids' struggles seriously
Tune in here to Episode 068. Know someone else who could use this episode in her life? Tell her you're thinking about her and love her and that you have something you know will encourage her today <3
Loving the We Are Free podcast!? Please take a minute to rate and review on iTunes! I appreciate it so much 🙂
Links from the show
Michelle's book: Loved and Cherished
The Practice of the Presence of God by Brother Lawrence
Connect with Michelle
Michelle's podcast: Raising Mentally Healthy Kids
Connect with Becky