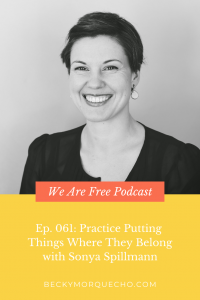 Thanks for listening to We Are Free Ep. 061 with Sonya Spillmann: Practice Putting Things Where They Belong.
Get Becky's Go-To Guide for Letting Go + Living Freely: Biblical truths, practical tips, resources and journal prompts that'll make you feel lighter and live freer.
Loving the We Are Free podcast!? Please take a minute to rate and review on iTunes! More reviews = more women hear We Are Free and experience the freedom of walking with Jesus!
Sonya lives in the DC area with her husband and four kids through birth and adoption. She's a critical care nurse by training but currently writes for Coffee+Crumbs and is a co-host for the Exhale Creativity podcast.
In this Ep. 061, you'll learn from Sonya about…
Practicing putting things where they belong
Starting with the basics
Starting with what you know
What to do with strained relationships
How do we approach fear
What to do when life looks messy
Putting your trust in Jesus when nothing else makes sense
Being a Type A woman
Tune in here to Episode 061. Know someone else who could use this episode in her life? Tell her you're thinking about her and love her and that you have something you know will encourage her today <3
Loving the We Are Free podcast!? Please take a minute to rate and review on iTunes! I appreciate it so much 🙂
Connect with Sonya
Connect with Becky