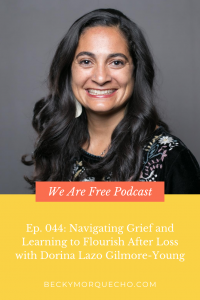 Thanks for listening to We Are Free Ep. 044 with Dorina Lazo Gilmore-Young: Navigating Grief and Learning to Flourish After Loss.
Get Becky's Go-To Guide for Letting Go + Living Freely: Biblical truths, practical tips, resources and journal prompts that'll make you feel lighter and live freer.
Loving the We Are Free podcast!? Please take a minute to rate and review on iTunes! More reviews = more women hear We Are Free and experience the freedom of walking with Jesus!
Dorina is a speaker, Bible study teacher, and children's book author. She specializes in helping people navigate grief and flourish in community. Dorina is a "glory chaser," who meets God running on the trails or near the ocean. She lives with her hubby Shawn and three daughters in Central California.
In this Ep. 044, you'll learn from Dorina about…
Life with her late husband Ericlee
What life was like when Dorina and her husband found out he had cancer
Praying for someone who has cancer
How God gave her a confidence and peace in knowing her husband would pass
How do you go from grief to moving forward?
How community plays such an important
What does grief look like?
God remains faithful in the little things
How to know when you're ready for dating after your spouse passes away
How God meets us in our grief
Learning to flourish after loss
Tune in here to Episode 044. Know someone else who could use this episode in her life? Tell her you're thinking about her and love her and that you have something you know will encourage her today <3
Loving the We Are Free podcast!? Please take a minute to rate and review on iTunes! I appreciate it so much 🙂
Links from the Show
Dorina's book: Walk, Run, Soar: A 52-Week Running Devotional
Ann Voskamp's book: One Thousand Gifts
Dorina's children's book: Cora Cooks Pancit
Connect with Dorina
Connect with Becky