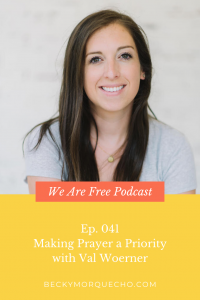 Thanks for listening to We Are Free Ep. 041 with Val Woerner: Making Prayer a Priority.
Get Becky's Go-To Guide for Letting Go + Living Freely: Biblical truths, practical tips, resources and journal prompts that'll make you feel lighter and live freer.
Loving the We Are Free podcast!? Please take a minute to rate and review on iTunes! More reviews = more women hear We Are Free and experience the freedom of walking with Jesus!
Val is an author and the owner of Val Marie Paper. She lives in South Louisiana with her husband Tyler and two girls, Vivi and Vana. Since 2013, Val's mission has been to help women live intentional lives that are an outflow of a fruitful and focused prayer life. She does that by creating practical and organized tools, like their monthly prompted prayer journal, that cut through the noise of everyday life.
In We Are Free Ep. 041, you'll learn from Val about…
Intentional prayer
Why she created a prayer journal in the first place
Why prayer journaling is so helpful and important
Why do we pray if God has a plan and already knows the outcome
Common misconceptions about prayer
Praying for miracles
Divine interventions
What is so hard about prayer
The Holy Spirit and prayer
Prayer and motherhood
Val Marie Paper and Val's prayer journal
God answering prayers in line with his will
Val's BIG prayer she hasn't shared publicly yet
Grumpy Mom Takes a Holiday
What does God say about motherhood
Tune in here to Episode 041. Know someone else who could use this episode in her life? Tell her you're thinking about her and love her and that you have something you know will encourage her today <3
Loving the We Are Free podcast!? Please take a minute to rate and review on iTunes! I appreciate it so much 🙂
Links from the show
Val's Book – Grumpy Mom Takes a Holiday
We Are Free Ep. 008 (Praying for a Miracle) with Kelly Lemon
We Are Free Ep. 002 (Crafting a Less Anxious Life) with our mutual friend Diana Kerr
Connect with Val
Connect with Becky