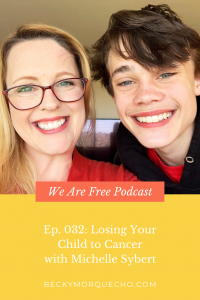 Thanks for listening to We Are Free Ep. 032 with Michelle Sybert: Losing Your Child to Cancer.

Get Becky's Go-To Guide for Letting Go + Living Freely: Biblical truths, practical tips, resources and journal prompts that'll make you feel lighter and live freer.

Loving the We Are Free podcast!? Please take a minute to rate and review on iTunes! More reviews = more women hear We Are Free and experience the freedom of walking with Jesus!

Michelle Sybert lost her 14-year-old son to cancer a little more than 3 months ago. If you know the Sybert family, you know of him as Luke the Brave. And I have to say, if you know Michelle or you've been following along this family's journey, you know that she is so brave too.

In Ep. 032, Michelle tells Luke's story and we talk about the following things:

How and when Luke was first diagnosed
What do you tell a 9-year-old who has cancer
Coping with cancer in the hospital
How to let your child guide you
Constantly caring for Luke
What that looked like for their marriage and family life
Declared "cancer free" (no evidence of disease), what happened after that
What does getting back to a new normal look like after cancer
Four years later, Luke started having some pain in his leg
Osteosarcoma is back
What it's like to live on borrowed time
Leg amputation was scheduled, chemo and then lung surgery but that's not what happened
Emergency surgeries
Diagnosed with mucormycosis
Wasn't able to have surgeries
Chemotherapy wasn't working
Why am I grieving and he hasn't passed away yet
One of the best healing things for Michelle
How to get honest and vulnerable with God
How the Lord showed up during that time
How Luke changed Michelle
Tune in here to Episode 032. Know someone else who could use this episode in her life? Tell her you're thinking about her and love her and send this her way to encourage her today <3

Loving the We Are Free podcast!? Please take a minute to rate and review on iTunes! I appreciate it so much 🙂

Links from the show

St. Jude Children's Research Hospital
Connect with Michelle Sybert

Connect with Becky