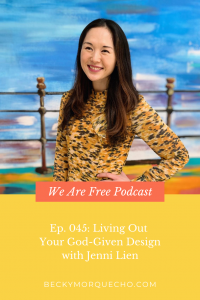 Thanks for listening to We Are Free Ep. 045 with Jenni Lien: Living Out Your God-Given Design.
Get Becky's Go-To Guide for Letting Go + Living Freely: Biblical truths, practical tips, resources and journal prompts that'll make you feel lighter and live freer.
Loving the We Are Free podcast!? Please take a minute to rate and review on iTunes! More reviews = more women hear We Are Free and experience the freedom of walking with Jesus!
Jenni is the writer and artist behind The Yay Project which seeks to help women celebrate their God-given design by reminding them 'You Are You' (Yay!). Through The Yay Project, she's had the joy of praising God with women in North America, South America, Europe, Africa, Asia and Oceania, and is overjoyed to connect so deeply through a shared love of Him. When not creating for The Yay Project, she works in children's book publishing and is also a freelance food writer. Jenni is originally from Ontario, Canada and currently lives in Hong Kong.
In this Ep. 045, you'll learn from Jenni about…
Why Jenni started The Yay Project
Not feeling qualified to share about God
Struggling with fear of rejection
Celebrating our God-given design
Living out your God-given design
How to discover and live in the sweet spot of God's calling for your life
How do I know God's voice
Getting back on track to who he's created me to be
Seeking God and not fearing the world
Tune in here to Episode 045. Know someone else who could use this episode in her life? Tell her you're thinking about her and love her and that you have something you know will encourage her today <3
Loving the We Are Free podcast!? Please take a minute to rate and review on iTunes! I appreciate it so much 🙂
Connect with Jenni
Connect with Becky