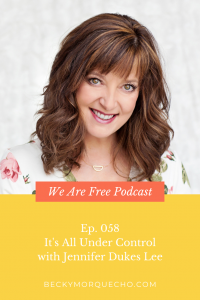 Thanks for listening to We Are Free Ep. 058 with Jennifer Dukes Lee: It's All Under Control.
Get Becky's Go-To Guide for Letting Go + Living Freely: Biblical truths, practical tips, resources and journal prompts that'll make you feel lighter and live freer.
Loving the We Are Free podcast!? Please take a minute to rate and review on iTunes! More reviews = more women hear We Are Free and experience the freedom of walking with Jesus!
Jennifer lives on the fifth-generation Lee family farm in Iowa, where she and her husband are raising crops, pigs, and two beautiful humans. Jennifer is the author of several books, including Growing Slow and It's All Under Control. She loves queso, and enjoys singing too loudly to songs with great harmony. Once upon a time, she didn't believe in Jesus; now he's her CEO.
In this Ep. 058, you'll learn from Jennifer about…
Why women have an innate desire to have it all under control all the time
Common anxieties and burdens overwhelming women these days
How do we adopt a mindset that God has it all under control
Prioritizing ideas, to-dos, relationships, etc. so we're aligning our days with what God has for us
Approaching everyday tasks in a way that makes you feel a lighter and helps get stuff done
Taking a step back from everything we think we need to have under control and reminding ourselves of the bigger picture
Tune in here to Episode 058. Know someone else who could use this episode in her life? Tell her you're thinking about her and love her and that you have something you know will encourage her today <3
Loving the We Are Free podcast!? Please take a minute to rate and review on iTunes! I appreciate it so much 🙂
Links from the show
Jennifer's book: It's All Under Control
Connect with Jennifer
Connect with Becky