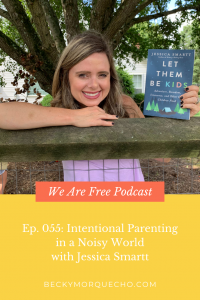 Thanks for listening to We Are Free Ep. 055 with Jessica Smartt: Intentional Parenting in a Noisy World.
Get Becky's Go-To Guide for Letting Go + Living Freely: Biblical truths, practical tips, resources and journal prompts that'll make you feel lighter and live freer.
Loving the We Are Free podcast!? Please take a minute to rate and review on iTunes! More reviews = more women hear We Are Free and experience the freedom of walking with Jesus!
Jessica is a former English teacher turned homeschooling mom of three. If you're into personality tests and Myers Briggs, she's an ESTJ. Jessica is passionate about helping moms detach from the ever-present lure of technology and helping them recover from worry. She runs a mean 12-minute mile and can make just about anything dairy free.
In this Ep. 055, you'll learn from Jessica about…
Letting kids be kids
Creating a Christ-centered home
What is the problem with childhood these days
Why technology keeps kids from childhood
How do we do better for our kids
Bonding with your family
Why it's good for kids to be bored
How to help our kids get creative with boredom
Society's pressure on parents
When do you feel most alive as a parent
Creating traditions with your kids
How to make memories with your kids
Tune in here to Episode 055. Know someone else who could use this episode in her life? Tell her you're thinking about her and love her and that you have something you know will encourage her today <3
Loving the We Are Free podcast!? Please take a minute to rate and review on iTunes! I appreciate it so much 🙂
Links from the show
Jessica's book: Let Them Be Kids
Jessica's book: Memory-Making Mom
Rachel Jankovic's book: Loving the Little Years
Connect with Jessica
Connect with Becky