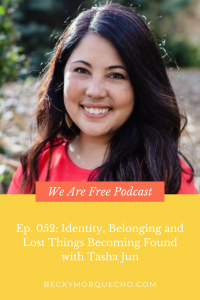 Thanks for listening to We Are Free Ep. 052 with Tasha Jun: Identity, Belonging and Lost Things Becoming Found.
Get Becky's Go-To Guide for Letting Go + Living Freely: Biblical truths, practical tips, resources and journal prompts that'll make you feel lighter and live freer.
Loving the We Are Free podcast!? Please take a minute to rate and review on iTunes! More reviews = more women hear We Are Free and experience the freedom of walking with Jesus!
Tasha is a biracial Korean American melancholy dreamer, a storyteller and poet, wife to Matt, and mama to three little warriors. She's a write-from-home mom and contributes regularly to a number of publications. Tasha has lived and stood in places where cultures collide for as long as she can remember, and most days you'll find her homesick and thinking about identity, belonging, and lost things becoming found. She's been writing about those things ever since she received her first journal in the third grade.
In this Ep. 052, you'll learn from Tasha about…
Growing up in a multicultural and biracial home
Experiencing a lot of different cultures
Cultures colliding
Culture loss
Loss being carried from one generation to the next
Myths and misconceptions of mixed race women
Embracing the place where cultures collide
How does faith intertwine with ethnic identity
Being a homesick believer
Tune in here to Episode 052. Know someone else who could use this episode in her life? Tell her you're thinking about her and love her and that you have something you know will encourage her today <3
Loving the We Are Free podcast!? Please take a minute to rate and review on iTunes! I appreciate it so much 🙂
Links from Show
Connect with Tasha
Connect with Becky