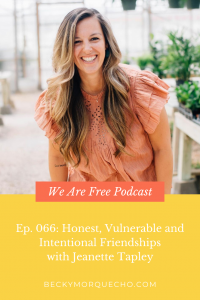 Thanks for listening to We Are Free Ep. 066 with Jeanette Tapley – Honest, Vulnerable and Intentional Friendships.
Get Becky's Go-To Guide for Letting Go + Living Freely: Biblical truths, practical tips, resources and journal prompts that'll make you feel lighter and live freer.
Loving the We Are Free podcast!? Please take a minute to rate and review on iTunes! More reviews = more women hear We Are Free and experience the freedom of walking with Jesus!
Jeanette is a podcast host, author and speaker who loves all things friends, laughter and a good cup of coffee. When she's not recording for her podcast or helping other podcast hosts with theirs, you can find her hanging out with her 3 teens and hubby, watching Disney movies or camping or doing both at the same time!
In this Ep. 066, you'll learn from Jeanette about…
Why it's important for women to have close friendships
Friends need to be a necessity not a luxury
Who's holding you accountable?
What to do if you're struggling with friendships
How to show up for your friends, even if you can't relate to something they're going through
Being honest with people we love
Stop being afraid of saying the wrong thing
How do we stop isolating ourselves?
How to accept help from people in our lives
How do we deal with hurt in relationships?
What to do when friendships end?
Friendship breakups
What happens when conflicts happen in friendships
How to be clear about boundaries and expectations
Tune in here to Episode 066. Know someone else who could use this episode in her life? Tell her you're thinking about her and love her and that you have something you know will encourage her today <3
Loving the We Are Free podcast!? Please take a minute to rate and review on iTunes! I appreciate it so much 🙂
Links from the show
Laura Tremaine's book: Share Your Stuff. I'll Go First.
Connect with Jeanette
Jeanette's podcast, It's Time for Coffee
Connect with Becky