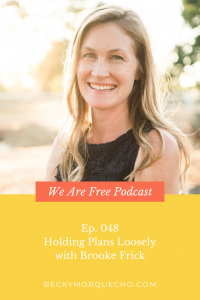 Thanks for listening to We Are Free Ep. 048 with Brooke Frick: Holding Plans Loosely.
Get Becky's Go-To Guide for Letting Go + Living Freely: Biblical truths, practical tips, resources and journal prompts that'll make you feel lighter and live freer.
Loving the We Are Free podcast!? Please take a minute to rate and review on iTunes! More reviews = more women hear We Are Free and experience the freedom of walking with Jesus!
Brooke is the author of a devotional for moms releasing this fall, called Hands Full. And she definitely has her hands full, being a mama to five kids, including a surprise set of twins.
She and her husband recently sold their home and moved into an RV to travel the country and see what God has next for their family. Brooke is a big believer in following God wherever He leads, even though she has a hard time letting go.
In this Ep. 048, you'll learn from Brooke about…
Moving into an RV full-time
Brooke's book: Hands Full
God's plans are always better than our plans
When God's plans surprise us
How do we hold our plans loosely?
Letting go of expectations
Do you feel like holding plans loosely gets easier over time?
How do we approach God with our hopes and desire AND remain confident that He'll show up as He sees fit?
What does it look like to work from a place of rest?
Investing in talents God's given us
Tune in here to Episode 048. Know someone else who could use this episode in her life? Tell her you're thinking about her and love her and that you have something you know will encourage her today <3
Loving the We Are Free podcast!? Please take a minute to rate and review on iTunes! I appreciate it so much 🙂
Connect with Brooke
Connect with Becky