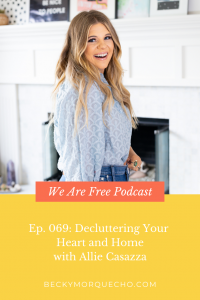 Thanks for listening to We Are Free Ep. 069 with Allie Casazza – Decluttering Your Heart and Home.
Get Becky's Go-To Guide for Letting Go + Living Freely: Biblical truths, practical tips, resources and journal prompts that'll make you feel lighter and live freer.
Loving the We Are Free podcast!? Please take a minute to rate and review on iTunes! More reviews = more women hear We Are Free and experience the freedom of walking with Jesus!
Allie is on a mission to eradicate the "hot mess mom" stereotype by empowering other women. She has built a massive audience and a multimillion-dollar online business based on her proven, family-oriented approach to minimalism. She is also the host of The Purpose Show, a chart-topping podcast, and the creator of multiple online programs and courses that garner tens of thousands of registrations each time they run. Her platforms continue to grow every day as more women discover her life-changing approach to creating an abundant life. She was raised in Southern California and recently moved to Greenville, South Carolina with her husband, Brian, where they homeschool their four young children.
In Episode 069, Allie and I discuss…
Overwhelm in motherhood
Essentialism and how to say no
Mental health and motherhood
Simplifying our lives
What minimalism looks like as a mom
The things worth keeping in our homes
Why capsule wardrobes aren't for everyone 😉
Contentment vs. consumerism
The art of appreciation
Making the most of our homes for what we want and need
Finding contentment with whatever we have or don't have
What decluttering has to do with faith
Practical ways to live a simple life
Starting your mornings slowly
Tune in here to Episode 069. Know someone else who could use this episode in her life? Tell her you're thinking about her and love her and that you have something you know will encourage her today <3
Loving the We Are Free podcast!? Please take a minute to rate and review on iTunes! I appreciate it so much 🙂
Links from the show
Allie's book: Declutter Like a Mother
Connect with Allie
Allie's podcast: The Purpose Show
Connect with Becky