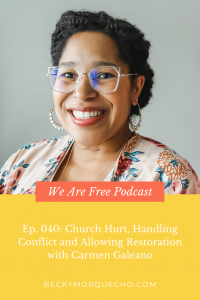 Thanks for listening to We Are Free Ep. 040 with Carmen Galeano: Church Hurt, Handling Conflict and Allowing Restoration.

Get Becky's Go-To Guide for Letting Go + Living Freely: Biblical truths, practical tips, resources and journal prompts that'll make you feel lighter and live freer.

Loving the We Are Free podcast!? Please take a minute to rate and review on iTunes! More reviews = more women hear We Are Free and experience the freedom of walking with Jesus!

Carmen is a mom of 4 and has been married for 9 years to her best friend who is a pastor and together they've served in ministry for more than 10 years. Currently, in this season of life, she is at home with her kids, but she's worn many hats over the years. From being an art teacher, counselor and a social worker. Carmen loves connecting with others and sharing her walk with Christ and the journey of truth and grace, which has been the catalyst for her blog of 7 years, Graciously Woven and the heart behind her community.

In this Ep. 040, you'll learn from Carmen about…

Church hurt
Handling conflict
Dealing with anger and bitterness
How self-reflection guides us toward God
When God is working on your heart, fighting it, accepting it
How to not get lost in vengeance
Balancing grace and truth
When things go wrong and how to deal with them
Not connecting the people of God to who God is
Tune in here to Episode 040. Know someone else who could use this episode in her life? Tell her you're thinking about her and love her and that you have something you know will encourage her today <3

Loving the We Are Free podcast!? Please take a minute to rate and review on iTunes! I appreciate it so much 🙂
Connect with Carmen

Connect with Becky