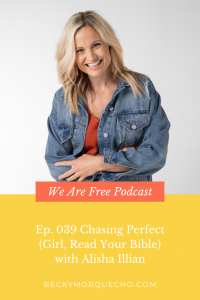 Thanks for listening to We Are Free Ep. 039 with Alisha Illian: Chasing Perfect (Girl, Read Your Bible).

Get Becky's Go-To Guide for Letting Go + Living Freely: Biblical truths, practical tips, resources and journal prompts that'll make you feel lighter and live freer.

Loving the We Are Free podcast!? Please take a minute to rate and review on iTunes! More reviews = more women hear We Are Free and experience the freedom of walking with Jesus!

Alisha is a self-proclaimed salsa snob, coffee addict, and crazy-in-love follower of Jesus. She has a deep heart for women's issues and Biblical application. She is a speaker and leader for various women's ministries and the founder of Women (re)Purposed.
Alisha is a mama to 3 and an 80-pound Golden-doodle named Bear. She lives in Wichita, Kansas.

She's the girl who wrote the Instagram post (below) that went viral:

You can eat all the kale,
Buy all the things,
Lift all the weights,
Take all the trips,
Trash all that doesn't spark joy,
Wash your face and hustle like mad,
But if you don't rest your soul in Jesus,
You'll never find peace and purpose.

In this Ep. 039, you'll learn from Alisha about…

How God gives us what we need for the day, so we keep coming back to him daily
Why women turn earthly things to feel satisfaction even though we know Jesus is the answer
The importance of continually resetting our minds
How we invite Jesus into our diversions and distractions
Unpacking the Mary and Martha Bible story
Trusting that God will provide even when we're not working toward something
Making time for the things that are important to us
Tune in here to Episode 039. Know someone else who could use this episode in her life? Tell her you're thinking about her and love her and that you have something you know will encourage her today <3

Loving the We Are Free podcast!? Please take a minute to rate and review on iTunes! I appreciate it so much 🙂

Links from the show

Alisha's book, Chasing Perfect: Peace and Purpose in the Exhausting Pursuit of Something Better
Connect with Alisha

Connect with Becky