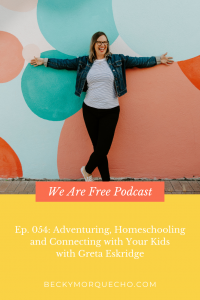 Thanks for listening to We Are Free Ep. 054 with Greta Eskridge: Adventuring, Homeschooling and Connecting with Your Kids.
Get Becky's Go-To Guide for Letting Go + Living Freely: Biblical truths, practical tips, resources and journal prompts that'll make you feel lighter and live freer.
Loving the We Are Free podcast!? Please take a minute to rate and review on iTunes! More reviews = more women hear We Are Free and experience the freedom of walking with Jesus!
Greta is a nature lover, book reader, and coffee drinker. She craves relationship and loves having adventures. Her faith in God is the lens through which she sees life. Greta is a second generation homeschooling mom of 4, a wife of 22 years to Aaron, and an author and speaker. Greta's first book, Adventuring Together, released July of 2020 with Thomas Nelson. Greta is passionate about helping parents protect their kids from the devastating effects of pornography and she loves to travel the country sharing her message of joyful, connected parenting.
In this Ep. 054, you'll learn from Greta about…
Families that treasure creativity
How to connect with your kids
How she realized adventuring together with her kids created connectedness
Why breaking free from routine is good for your family
Why escaping comforts of home is good for your family
How parents make time for adventures when they're exhausted or overworked
What parents need to let go of in order to make adventure and connection happen
Unexpected ways your family can find adventure
Her family's mission for homeschooling
Best parenting lessons from homeschooling your kids
Tune in here to Episode 054. Know someone else who could use this episode in her life? Tell her you're thinking about her and love her and that you have something you know will encourage her today <3
Loving the We Are Free podcast!? Please take a minute to rate and review on iTunes! I appreciate it so much 🙂
Links from the show
Greta's book: Adventuring Together
Connect with Greta
Connect with Becky