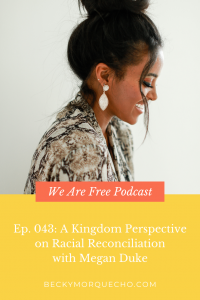 Thanks for listening to We Are Free Ep. 043 with Megan Duke: A Kingdom Perspective on Racial Reconciliation.
Get Becky's Go-To Guide for Letting Go + Living Freely: Biblical truths, practical tips, resources and journal prompts that'll make you feel lighter and live freer.
Loving the We Are Free podcast!? Please take a minute to rate and review on iTunes! More reviews = more women hear We Are Free and experience the freedom of walking with Jesus!
Megan is an international recording and touring artist who has performed all over the world to more than 2 million people live and featured on major projects. Her solo project, HEART ON FIRE, was released March of 2020 and has exceeded all expectations. Her passion is to see Jesus moments turn into Jesus movements and she serves on a ministry network with the underground church in more than 130 nations. Megan has 3 children and is happily married to her husband, Zach.
In this Ep. 043, you'll learn from Megan about…
How God has gifted her and how she desires to use her music to bring glory to God
Surrendering to God's call for your life
Being in an interracial relationship
The hardest part about being in an interracial marriage
Being a Black woman living in a predominantly white area
The pressure to be a voice for all Black people
How to not get caught up in the news and social media and worldly systems and ideologies
Teaching your kids what it looks like to love God
How to turn Jesus moments into Jesus movements
Inviting diversity into your home and at your table
The church's role in racial reconciliation
How can God use white privilege
Tune in here to Episode 043. Know someone else who could use this episode in her life? Tell her you're thinking about her and love her and that you have something you know will encourage her today <3
Loving the We Are Free podcast!? Please take a minute to rate and review on iTunes! I appreciate it so much 🙂
Links from the Show
Megan's brand new music video: Set Your Heart on Fire
One Blood by John Perkins
Connect with Megan
Connect with Becky